[They are awaiting instructions as to what vaccine to use. It sounds like this is the older strain, see bolded excerpt below. Previously posts regarding this outbreak are
here
and
here
. ]
Urgent deployment of solutions for anti-avian influenza
09/09/2012
On the afternoon of 7/9, PPC issued Decision No. 1220/QD-UBND on the publication of bird flu at two Hoa Son and Co Hoa (Liangshan) from the date of 7/9/2012 .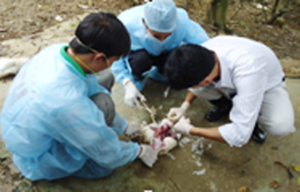 Department of Animal Health Officer surgery medical examination determined shipbuilding village, Hoa Son (Liangshan).
Dinh Van Tuan, veterinarian Hoa Son said: From 28/8, in the area of
Đồng Táu, Bùi Trám, Suối Nẩy, xã Hòa Sơn (Lương Sơn)
is the phenomenon of chicken, duck, sickness and mass death. Grasp the situation, 3/9, Luong Son District Veterinary Station reported to the Department of Animal Health. On 4/9, Department of Animal Health has sent staff to check verify.
Based on the symptoms of sick poultry as: birds die quickly, high mortality Forum die to 100%. Poultry have symptoms of bleeding feet, swelling, nasal infection, severe abdominal bleeding skin, nervous symptoms, polio, poverty neck. Lesions expression: tracheal mucosal bleeding, haemorrhagic lungs, liver swelling, bleeding spots, facial swelling, chest Bunch of fibrin adhesive.

Department of Animal Health has conducted sampling ill send the Central Veterinary Diagnostic Center for testing.
Day 6/9, the Central Veterinary Diagnostic Center concluded the samples
testing positive for the H5N1 avian influenza virus.
On the morning of 7/9, the inspection team of the Department of Agriculture and Rural Development, Department of Animal Health, Animal Health Agency Region I, Luong Son district People's Committee and went to check the actual situation in the commune.

At the time of inspection, Hoa Son has 740 sick birds and 448 dead birds in the areas of shipbuilding, Tram Bui, this spring.
As of noon on 8/9, in the commune had more areas packed series of dead poultry and expression of avian influenza. Bui Van Mon, CPC President, Head of the PSC against avian influenza Hoa Son said: Currently, the cooperative has established the Steering Committee consists of 13 members. PSC regularly sent staff down to the village to catch up with changes in disease. The commune was established 5 checkpoints elected village head and deputy village, the police directly 24/24h absolutely for transporting poultry-in area in the neighborhood: Copper Tangerine, Happiness, New Hoa, shipbuilding, Tan Son. Hoa Son
determine the anti-epidemic is an urgent task, needs of the whole political system. PSC suggested people in the area are not selling poultry. For the sick and dead poultry request for the burial or destruction of your home.
According to the Department of Animal Health, avian influenza outbreaks in two Hoa Son, Hop Hoa is predicted to be highly likely to spread and cause major damage to the livestock industry of the province because from 2008 to Today, the province is not bird flu vaccination and this is the old outbreak and as an area with many large farms concentrate. Department of Animal Health recommended the Department of Animal Health, the Veterinary region I for guidance on the vaccination of avian influenza (use RE2 H5N1 vaccine or the NAVET-vaccine VIFLUVAC of NAVETCO) to suit the characteristics Epidemiology of Hoa Binh province. Continued: http://www.baohoabinh.com.vn/219/73383/Cap_bach_trien_khai_cac_giai_phap_phong_chong_dich_cum_gia_cam.htm