Died of bird flu in Shenzhen 120 close contacts have no abnormalat 02:36 on January 1, 2012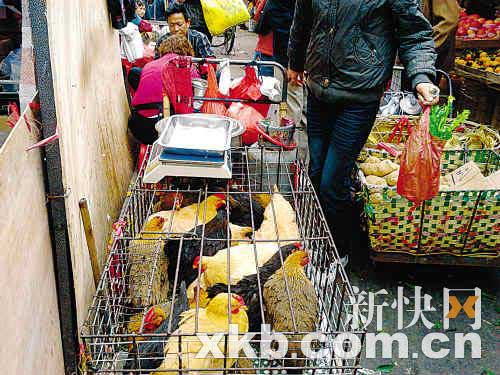 Yesterday, members of the village farmers market chickens Guangzhou normal sales
. Express reporter Cao Hongmei / photo
Migratory birds infected with the suspect, the Ministry of Health confirmed its first cases in 2011
Infection have been confirmed dead yesterday afternoon ill
Provincial Health Department briefing yesterday, December 30, 2011 report of suspected highly pathogenic avian influenza in Shenzhen bus driver Mr. Chen, the disease continued to increase yesterday, at 1 pm after she died.
According to the briefing yesterday, the Ministry of Health has organized a group of experts on bird flu prevention and control found in Shenzhen province of human infection of highly pathogenic avian influenza suspected cases Chen for consultation. According to the World Health Organization of human infection of highly pathogenic avian influenza confirmed case definition and China's diagnostic criteria, combined with the cases of clinical manifestations, laboratory results and epidemiological investigations, bird flu prevention and control of the Ministry of Health expert group to determine the cases of human infection highly pathogenic avian influenza confirmed cases.
Express reporter was informed, and this is the first report last year, people infected with highly pathogenic avian influenza confirmed cases, only one death cases.
The source of infection in patients with bird droppings or
It is involved in consultation and investigation of Guangdong Province, director of Communicable Disease Control and Prevention, He Jianfeng,
due to the experts to participate in consultation, the patient is Mr. Chen has been on a breathing machine, in a coma and therefore can not know whether he is directly from the mouth and poultry birds have a history of exposure. However, according to his wife introduced Mr. Chen has never eat meat, chickens, ducks, dining at night this month when none of eating poultry, mainly to eat pork.
Treatment of human avian influenza in Shenzhen City, where the team leader, Shenzhen Third People's Hospital Zhoubo Ping also said that there is indeed some cases of bird flu reported in the concrete can not find the source of infection.
In his view, bird droppings may be the source of infection in the patient. Because the expert group found that Mr. Chen, who lives in Bao'an District, Shenzhen, pastoral scenic sea. The scenic lake and wetland habitat for wild birds, Chen usually have morning exercise habits, the incidence of bird flu time high season is consistent, so patients do not rule out the possibility of contacts with sick birds.
120 close contacts are not unusual
It is understood that the avian flu has spread only after the onset of sex.
And He is before the onset of a sprained foot to rest at home, in close contact with his wife and only after the onset of the doctors involved in treatment and came to visit colleagues, friends, a total of 120 people. Current disease control departments have populations of these different forms of monitoring, no abnormal symptoms. The patients have all been driving buses for hand disinfection.

Yesterday afternoon, the Provincial Health Department issued a "strengthen bird flu prevention and control of emergency" which called for increased surveillance around the efforts to make bird flu prevention and control preparations. Reporters learned that the province has four surveillance system from different angles, including monitoring systems unexplained pneumonia, influenza surveillance system, bird flu monitoring system, a large surveillance system. Once an outbreak, will be announced as early as possible, to minimize losses.
●
12 20
, found a sample of chicken carcasses with H5N1 highly pathogenic avian influenza virus.
●
12 21
, destroyed more than 17,000 live poultry, to suspend supply of live chickens 21.
●
12 23
, Hong Kong SAR Government Agriculture, Fisheries and Conservation Department said today in Hong Kong found the body of an Oriental Magpie Robin tests by the number of confirmed highly pathogenic avian influenza virus of H5N1 tested positive.
●
12 21
,
patients with no obvious incentive fever
.
●
12 25, Baoan, Shenzhen City manhole into the People's Hospital for treatment
.
●
12 26, with "severe pneumonia" diagnosis transferred to the intensive care unit treatment.
●
12 30, the provincial health department diagnosis of the suspected human infection of highly pathogenic avian influenza cases in critical condition
.
●
12 31, the Ministry of Health diagnose human infection of highly pathogenic avian influenza confirmed cases, patients died at 1 pm the same day
.
Impression that patients
Usually good health recently dyed alcohol
Express News from Sichuan Deyang bus driver Chen Fayu at the age of 39 years, only three years of struggle in Shenzhen, it unfortunately infected with bird flu, and ultimately died of multiple organ failure,
left home more than 60-year-old mother, 16-year-old son and profound feelings of his wife
.
Sad sad old friend heard the bad news
2 o'clock yesterday afternoon, where Mr. Chen's Express reporter went to Shenzhen Bao'an District People's Hospital. The fourth floor of the ICU ward door was locked, a twenty-year-old man pacing back and forth at the door, received a phone call, the man sadly sadly almost shed tears.
"He told me his wife in there, people have gone a little more." Man told reporters that his name is Ray, the patient's friends, usually all play together. Waited at the hospital yesterday, has been waiting for a message, but did not expect so to bad news. "At first I thought the common cold, such problems have been discovered too late." Lui sigh.
Double play at normal walking stickIt is understood that Chen Fayu lifetime is the bus two branch offices in Shenzhen maritime western pastoral team driver, has been responsible for driving before the bus 338 (sea garden to the train station), in the pathogenesis of about 2 months before being transferred to the airport the team responsible for driving M351 bus lines (the airport east to west two branches).
According to Chen Fayu workers introduced Mr. Dai, Chen Fayu height 1.67 m, weight 180 pounds, look fat, "but his body is usually very good, even a small fever-like illness did not."
And Mr. Ray are disclosed information to another reporter, Chen regular exercise before, but also playing nunchuck, but nearly half of infected playing mahjong and the bad habit of smoking, drinking, body defenses are weakened, often sick, but still insist on walking to the house near the wetland. He also said that Chen Fayu done last month, had also cook chicken soup, it may come into contact with poultry offal, so I do not know whether the disease.
Good times were good popularity rating
Mr. Dai told reporters that Chen Fayu of good karma, for my colleagues are very friendly to passengers, the team has repeatedly been rated as fourth gear, fifth gear employees (five-speed for the good people). Previously, Chen Fayu had told him to live with a bedroom.
About three or four months ago, Chenfa Yu's wife came to Shenzhen from home, they moved next door to the husband and wife, the wife has just over a month ago to find a job. After learning that Chen Fayu seriously ill, much to study in Sichuan last year, 16-year-old son the night of December 27, rushed to the hospital to visit, but unfortunately, after four days away father
.
Monitoring of the province
Backyard poultry outbreak of avian flu risk
Provincial Department of Agriculture, Forestry Department, said not yet found infected with bird flu in poultry, experts say immunization can not relax
Express News reporter yesterday were from the Guangdong Provincial Department of Agriculture and Forestry Department of Guangdong Province was informed that the province has stepped up monitoring of migratory birds is not currently found in poultry and other birds infected with bird flu epidemic. However, experts said poultry, backyard poultry is still the risk of avian flu outbreaks, immunization can not relax.
11 no monitoring of migratory birds infected with
Guangdong Forestry Bureau yesterday said that the province has 11 national wildlife foci of disease monitoring, real-time monitoring of wild migratory birds, so far found no bird avian flu virus.
Guangzhou wildlife protection and management of Office of Renlian Jun Hao said, do daily to protect the Nansha Wetland Park, Marina and other wild birds and the formation of concentration monitoring report, year 2011 did not occur the phenomenon of unusual deaths of wild birds migratory birds such as the death of a large area, the scale of the infection.
The province's farmers to enhance emergency investigationSince the occurrence of human infection of avian influenza in Shenzhen deaths, the provincial Department of Agriculture quickly convened an emergency meeting immediately start emergency treatment of human avian influenza contingency plans
. Currently, the Agriculture Department has issued a "further improve the prevention and control of avian influenza emergency," which urged local emergency outbreak investigation, and urge all farming units and farmers on the dead animal in strict accordance with the
"No slaughter, are not allowed
consumption, are not allowed to sell, are not allowed to transport, treatment and disposal must be carried out "principle for disposal.
Reporters learned that Shenzhen has been the location of human cases of emergency on animal husbandry to conduct a comprehensive survey, found that poultry health, no exceptions. So far, the provincial Agriculture Department has not received reports of highly pathogenic avian influenza outbreaks. According to the Provincial Department of Agriculture staff, last year, the province's actual bird flu vaccine immunization were 1.19 billion birds, monitoring of serum samples of 170,800 copies, 41,000 copies of pathogenic samples. Currently, the province's bird flu mean density of more than 100% immune, antibody levels to national standards, effective immune protection at the state poultry.
Yesterday, the Provincial Agriculture Office also organized the South China Agricultural University, the Provincial Academy of Agricultural Sciences, Foshan Institute of Technology and other related poultry expert meetings.
The meeting held that, by the weather, animals, animal epidemic characteristics and frequent flow of transactions and other factors, Guangdong Province, bird flu prevention and control situation is still grim, backyard poultry is still the risk of avian flu outbreaks, immunization can not relax.
It is reported that the agricultural sector in the New Year, Spring Festival is still on duty to carry out emergency work to keep major animal epidemic situation reporting telephone 24 hours open.
Visited Guangzhou
Chicken cooked according to the market women do not worry about selling
Yesterday, the New Express reporter visited several farmers markets in Guangzhou City found that chickens, ducks, quail and other birds still live normal sales, stall holders and residents have said I have not heard of avian flu.
The members of the village farmers market, a stall Tang Shu told reporters that he contracted a hill in Jubei, designed to go to the chicken feed. "When the Cubs chicks injected flu vaccine has already begun, with the chickens grow, will continue to feed these flu drugs unlikely to have bird flu." Tang Shu said.
European residents in the file aunt had just bought two go to chicken to take home to do plain chicken. "If there were bird flu, the news will certainly be reported, relevant departments will take measures to it." Ou aunt said they did not worry about chicken.
http://news.sohu.com/20120101/n330930391.shtml